Date and Time:
Saturday, August 19, 2017 -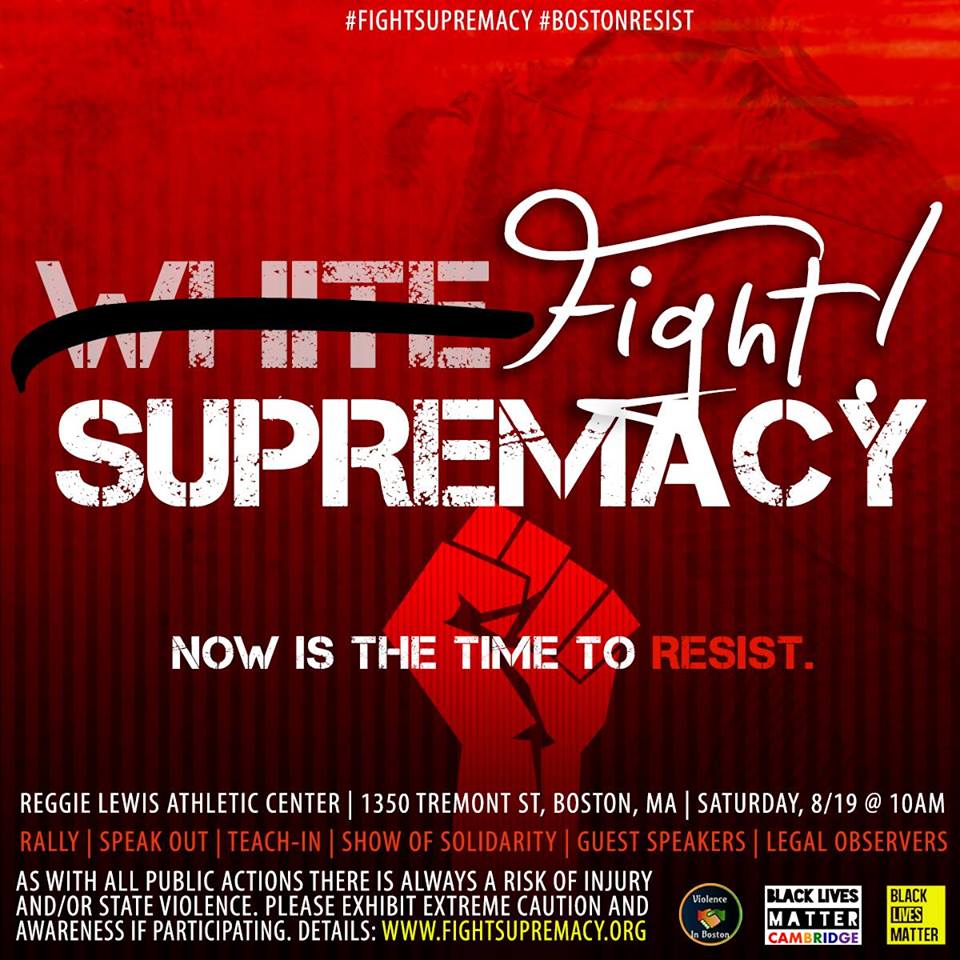 As we don't know much about the action/program or even safety concerns, Right to the City is coordinating with our alliance members and allies to participate as a contingent in the March.
We are encouraging all to join us in Unity and support Rising, Resisting and Protecting our communities and our collective freedoms.
The Plan: Saturday Aug 19, 2017
10:15am - gather at Madison Park High School and line up behind our Right to the City Banner
10:30am - join the main march and walk in solidarity with the resistance
At the end of March - disperse our official contingent. Folks are free to join with other program scheduled to begin at noon.
Right to the City Boston statement in response to the violence in Charlottesville.
WE ARE THE MAJORITY
Building a Just World for All!
Right to the City Boston stands on the side of Justice in the face of hate. We denounce white supremacists, neo-Nazis, and KKK members in Charlottesville last weekend. We lift up those who lost their lives and were brutally injured and their loved ones. We honor their memory and the memory of so many others who have died as a result of racial inequality and discrimination by recommitting to Rise to counter hatred, Resist with love and Protect with non-violence.

We have been re-energized by this opportunity to deepen the level of dialogue amongst our base, supporters and larger movement family about history, strategy, structural inequality and how to strengthen the connections between struggles for social, economic, environmental, and racial justice. The spirit of openness and honesty that this current moment provides allows us to stretch and make connections beyond our immediate needs and interests.

Expressing love, support and solidarity with Virginia protesters (or sisters and brothers in struggles for justice anywhere) is about fighting white supremacy and capitalism, and bringing power into our hands and communities collectively.

This is about actively addressing our country's history of structural racism, specifically anti-Black racism and expanding the way we think about state violence to include how our current economy is and has historically been violent towards Black lives. We cannot continue to watch as the current administration erodes anti-discrimination protections, attempts to rewrite affirmative action laws to even further benefit the wealthy and, of course, the threatened $6.7 billion cuts to HUD which is rooted in the systemic destruction and displacement of low-income communities and communities of color.

This is connected to housing, democracy and all the other foundations of a true right to the city. And above all, we stand together honoring a new generation seeking to find solidarity, support and resilience through our movement.

It's all our Right to Remain!