Wednesday, January 24, 2018
The Bay State Banner, Roxbury residents demand democratic voice for planning, 01/24/2018, Karen Morales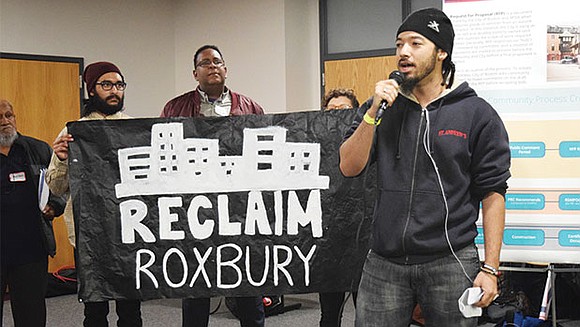 Community activists with the group Reclaim Roxbury interrupted a Boston Planning and Development Agency open house Monday, calling on the city to suspend PLAN: Dudley Square until neighborhood residents are better represented in the process. The meeting was intended to solicit feedback from Roxbury residents about the draft request for proposal guidelines which outline the language, objectives and evaluation criteria for development on city-owned parcels in the area, but Reclaim Roxbury demonstrators expressed their concern over the current planning process.
"Some of the bigger concerns we have is that they say it's rooted in our strategic master plan but we don't have a democratic body of residents to overview this process," said Michael Prentice, a member of Reclaim Roxbury. "Our oversight committee is supposed to be nominated by a pool of Roxbury residents, generated by a Roxbury body of people. This has not happened in years."
While the mayor appoints Roxbury Strategic Master Plan Oversight Committee (RSMPOC) members who are initially nominated by elected officials, the largely inactive Roxbury Neighborhood Council was traditionally elected by other Roxbury residents to monitor the development.
Reclaim Roxbury has been advocating to revive the RNC for the past couple of years, and Tito Jackson, former city councilor, has been at the forefront of the endeavor.
Prentice also addressed the accessibility of community meetings organized by the BPDA, usually scheduled at the same time and day during the week. "It's not realistic to get low-income, working-class people into all these meetings at these same times. We ask you to take us seriously because we just want to have a say, on our terms," he said, pointing out the need for childcare and translation services at meetings.
The group laid out their demands: to suspend the PLAN: Dudley Square process until residents of Roxbury, "are thoroughly engaged." This includes "reconstituting a democratic community oversight body not appointed by the mayor, and establishing non-negotiable standards around jobs and affordable housing," said Prentice.
Armani White, another member of Reclaim Roxbury, also addressed city officials and residents.
"There's a myth that if we don't develop now, then we miss a golden opportunity," he said. "Our response is, that's not how you actually develop a community, that's how you develop real estate. We are okay with taking a longer time if that means we don't have a lot of the pitfalls we're facing now."
White continued, "There's a perspective that people like us are against development but that's not the case. We're not concerned with developing parcels of land but rather we'd like to use this as a public resource, to elevate all of the people of Roxbury, not just a select few."
Job standards
Former city councilor and activist Chuck Turner said that the RSMPOC had voted two-and-a-half years ago on a set of job standards for new commercial developments. "Those of you who saw the recent RFP guidelines document, you saw what was in there had nothing to do with the standards voted by the committee," said Turner. "They pulled them out and put in a placeholder. Our question is, why wasn't it there from the very beginning?"
After Reclaim Roxbury's presentation, Dana Whiteside, deputy director for community economic development at the BPDA told the Banner, "The reason we have these open houses is to evoke comments across the spectrum. Some of the comments are to move forward, and some, like Reclaim Roxbury, are that we should take a step back.
"We'll take a look at their demands, take them under advisement and report back next meeting," Whiteside said. "We're here to listen, but as I told them, we can't make any promises right now."
At Monday's open house, BPDA officials announced that they are currently accepting applications for those interested in serving on a project review committee, of which there will be one for each parcel. A PRC comprises five members of the RSMPOC and four to 10 other community members. Each PRC will evaluate the developer submissions based on the criteria developed through PLAN: Dudley Square and laid out in the RFP.
The City of Boston and the BPDA will then directly contact those who filled out a form expressing their interest in serving on a PRC.
"Five new committees will be formed and at least 10 spots will be open to community members," said Whiteside. "We invite Reclaim Roxbury to be a part of that."
Roxbury residents demand democratic voice for planning
Roxbury residents demand democratic voice for planning